Training
Engaging, Applicable, Effective
We offer a wide range of training courses, designed to make a tangible difference to you and your people. Our courses are less about achieving a specific qualification and more about enhancing your talents and insights to be even more effective in the workplace. From appraisal skills to customer care; dealing with conflict to motivating your team, our courses will give you the advantage and development that you are looking for.
Our team of trainers are highly experienced, engaging and will not only bring the learning to life, but ensure that the theories can be applied directly to your specific situation. Courses are usually half-day or full-day courses. They are provided both as open courses (delegates drawn from various organisations) and specifically tailored for your "in-house only" audience. Training is provided at various venues to suit the delegates, including at our office, in our client's training rooms or at training sites including Les Cotils Centre.
"The course was excellent. The tutor drew new ideas out of the group, not lecturing us, but helping us form and articulate new ideas. This was exciting! We left the day energised and with clear 'takeaways' to be used at work. Highly recommended!"
Associated Contact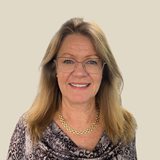 Annette Search
Annette began her career in Guernsey's finance industry in 1977 working for HSBC Bank plc. In 1985 she decided to pursue her interest in financial investments and made the move to asset management. She worked for Rothschild Asset Management (C.I.) Limited for 17 years. In 2001 she retired to be with her family but then returned to work as P.A. and Administrator at Leaders and The Learning Company.